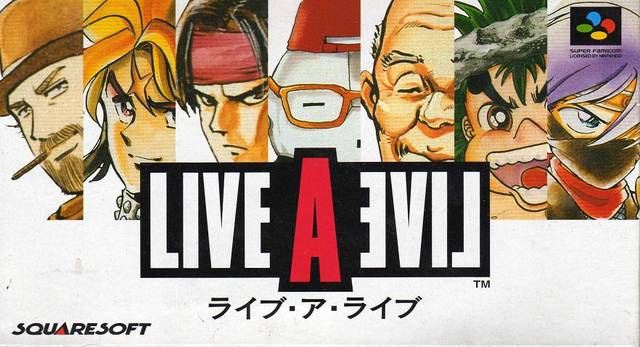 Welcome to the Live A Wikia
This wiki contains information about the Super Famicom title Live-A-Live, published by SQUARESOFT. Anyone is free to contribute, but please, don't use fanart on any pages without permission.
Feel free to read the pages at your leisure, but if you want to contribute to the Wikia in any way read these rules first please!
This wikia contains SPOILERS. Read at your own risk! Edit
What is Live a Live?
Live-A-Live is a Super Famicom game released on September 2nd, 1994. It is a unique JRPG that does not have a single flowing story, instead allowing the player to choose one of seven stories (or "chapters") to play through upon starting the game. After completing a chapter, you can then choose which one to play next. Completing every character's chapter will unlock the eighth chapter. Completing the eighth chapter unlocks the final chapter.
So, will you live a live, or live a lie?
| | |
| --- | --- |
| Antagonists | Party Members |
What is your favorite chapter to play in the game?
Who is your preferred Xin Shan Quan pupil?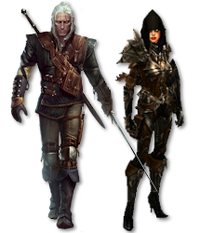 RPG Games
Go to these sites for info or for help with your own wiki!
AdventureQuest • Agarest War • Arcanum: Of Steamworks and Magick Obscura • Baldur's Gate • Biomutant • Dark Souls • Deus Ex • Diablo • Divinity • Dragon Age • Dragon Blaze • Dragon's Dogma • Elder Scrolls • Expeditions: Viking • Fable • Fallout • Faster Than Light • Fate/Grand Order • Five Nights at Freddy's World • For Honor • Grand Chase • Hyper Light Drifter • Ib • Legend of Heroes • Mass Effect • Might & Magic • Onmyoji • Shadowrun • SpellForce • Summoners War • Tom Clancy's The Division • Torment • Undertale • Wasteland • The Witcher
Want your community included? See how!
See all of our RPG gaming wikis!